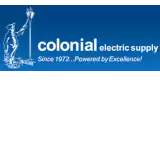 Colonial Electric Supply
Address:

1902 Centre Ave, Reading, PA 19605

Website:

https://colonialelectricsupply.com/

Colonial Electric Supply is a distributor of electrical products and equipment in Pennsylvania and neighboring states. The company was founded in 1972. The company offers customers a wide selection of electrical equipment and supplies, including wiring, cables, and LED solutions. The company operates a 24/7 customer support center.