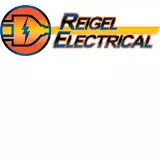 Reigel Electrical Services
Address:

545 West 18th Street, 2nd Floor, Erie, PA 16502

Website:

https://www.reigelelectrical.com/

Reigel Electrical Services is an electric company in Erie, PA that was founded in 2009. Shalkham Electric provides residents and commercial customers with a wide range of electrical services, including new home electrical installations, equipment upgrades and repairs, wiring replacements, and more. The company offers electrical services to residents throughout Northwestern Pennsylvania, including Crawford and Warren counties.