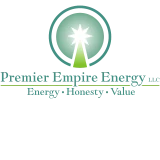 Premier Empire Energy
Address:

230 Park Avenue New York, NY 10169

Website:

https://www.premierempireenergy.com/

Premier Empire Energy is an electric company, a supplier of electricity to New York residents. The company buys electricity from other electricity suppliers and resells it to customers on favorable terms. Premier Empire Energy offers residents fixed rate plans that allow consumers to lock in prices and protect themselves from further price increases. The company offers a variety of terms and prices for its fixed rate plans.