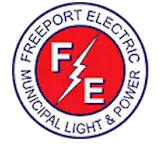 Freeport Electric
Address:

220 Sunrise Hwy, Freeport, NY 11520

Website:

https://www.freeportelectric.com/

Freeport Electric is one of the oldest electric companies in the country, Freeport Electric was founded in 1898. For more than a century, Freeport Electric has been providing residents and commercial customers with reliable and inexpensive electricity. About 13,000 New York residents and 1,800 businesses receive electricity from this company. Freeport Electric operates two power plants with a total capacity of approximately 75 MW. The cost of electricity is about a third lower than its competitors.