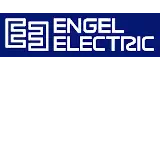 Engel Electric
Address:

5280 11th St Rockford, IL 61109

Website:

https://engelelectric.com/

Engel Electric Co. is an electrical contractor in Rockford, IL. The company was founded in 1958. Engel Electric provides construction services and electrical engineering services in the Midwest. For industrial customers, the company offers a full range of electrical services including Substation Design and Install, Medium Voltage Repair and Testing and many others. Engel Electric installs fire alarm systems, fiber optics, PLC systems. The company also offers several preventive maintenance services to prevent downtime in power supplies.