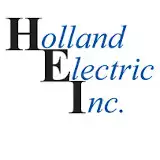 Holland Electric
Address:

1804 Heather Lane, Joliet, Illinois 60431

Website:

http://www.hollandelectricinc.com/

Holland Electric is an electric company in Joliet, IL. The company is family owned and operated. Holland Electric provides electrical services to residents of Chicago and surrounding areas, as well as commercial and industrial customers. The company's licensed professionals help customers perform energy audit and reduce their energy costs. In the case of an accident, 24/7 emergency service is always available.